The New York City Department of Probation is responsible for monitoring adult and juvenile probationers across the city.  On its website, the Department says one of its missions is to "build stronger and safer communities" through "meaningful education" and "family engagement."  Toward achieving that goal, earlier this month the Department hosted a street fair in Jamaica to promote the prevention of domestic violence and gun crimes in Queens.
Two Thirds of Female Murders in Domestic Violence Cases Involve Guns
The street festival that closed down Union Hall St. in Jamaica, Queens earlier this month is nothing new for the Department of Probation (DOP).  According to Raymond Napier, who's been serving as a probation officer for more than 20 years, the Department always tries to host an annual street fair to foster relations with the local community.
"We're trying to interact with the community to see who can help," Napier explained.  " A lot of times law enforcement is looked down upon.  We're trying to help the community, not harm the community."
Napier described this year's fair as a "one-stop shop" for community programs like mediation and youth services.  It was also a one-stop shop for domestic violence prevention and gun violence prevention – which are often intertwined.
According to a 2005 report by the Bureau of Justice Statistics (BJS), guns and other weapons were used in 16% of family violence incidents (compared with 21% of violent incidents not involving family members).  The same report also notes that, as reported by the victims of family violence, the offender used a weapon in about one quarter of all incidents.  For the purposes of the report, the term "weapons" included firearms, knives, and blunt objects.
A 2003 study published in the American Journal of Public Health also suggests that gun use, while relatively uncommon in the broader context of family violence, is a major risk factor for intimate partner homicides where the victims are female.  According to the study, which interviewed more than 500 women across 11 different cities, gun access equated to a quintupled risk of homicide in abusive romantic relationships.
Furthermore, citing a 2002 analysis of homicide data, non-profit organization Futures Without Violence (formerly the Family Violence Prevention Fund) reports that among "females killed with a firearm, almost two thirds were killed by their intimate partners."  In 2002, handguns accounted for nearly three quarters of all firearms used by men in fatal attacks against women.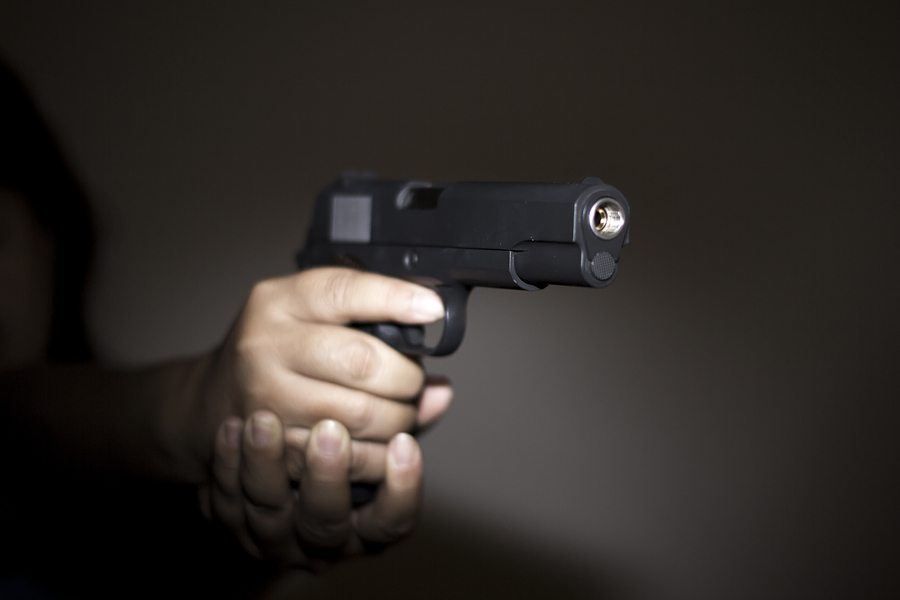 Jamaica Street Fair Draws Volunteers, NYPD, Probation Officers
The street fair focused on raising awareness of these issues – starting on the local level.
"You can't deal with an issue on a broad level if you can't deal with it right at home," said Ivory Williams, a juvenile probation officer who joined Napier at the event.
Others in attendance included representatives from an organization called 100 Suits for 100 Men, whose mission, according to the group's Facebook page, "is to reduce prison recidivism rate[s] and repeat offenses in convicted felons through gainful employment."  The organization seeks to help formerly incarcerated men and women connect with jobs by outfitting them with wigs, haircuts, and – of course – suits.
The crowded event also drew plenty of others, ranging from neighborhood locals to officers from the NYPD's 103rd Precinct to volunteer organizations who staffed booths, put up signs, and handed out pamphlets.  The atmosphere was festive – but at its core, the festival carried a somber message.
DOP Commissioner Ana Bermudez expressed her own message on behalf of the DOP: "We want to remind people that if you have an issue – particularly if you already have been in the [criminal justice] system – that violence is not the way to go.  You have to disengage."
Echoing the words of the Michael Jackson hit, Napier said that positive change all began with "the man in the mirror."
Contact the NY Department of Probation in Queens
Here's how to contact the Queens probation department offices by phone:
For general inquiries, call (718) 286-3045.
For questions about Jamaica NeON (Neighborhood Opportunity Network), call (718) 657-5137.
You can also visit an office in person.  Locations and hours of operation are listed below:
125-01 Queens Blvd.
Queens, NY 11415
Monday-Friday, 9:00 AM – 5:45 PM
162-24 Jamaica Ave. (Jamaica NeON)
Queens, NY 11432
Tuesday-Thursday, 8:00 AM – 6:45 PM
Monday and Friday, 8:00 AM – 5:15 PM
If you've been charged with assault, gun possession or domestic violence in Queens, the experienced criminal defense lawyers of Sullivan & Galleshaw may be able to help.  We have obtained favorable outcomes for numerous clients charged with felonies and misdemeanors throughout New York City.  To set up a free and confidential legal consultation, call our law offices right away at (800) 730-0135.  You will not be charged any fees for your initial consultation.