New York City Criminal Defense Lawyers
When you've been arrested and charged with a crime, you need dedicated legal support from an experienced criminal defense attorney. No matter how complex or serious the allegations against you, the law firm of Sullivan & Galleshaw is on your side. Our principal attorneys have more than 30 years of combined experience representing both juvenile and adult defendants across the greater New York metropolitan area, and handle a wide array of misdemeanor and felony offenses.
At Sullivan & Galleshaw, we understand that every case calls for a personalized approach with meticulous attention to detail. Our criminal defense attorneys pride ourselves on tailoring aggressive and comprehensive defense strategies to every client's needs, and handle a wide variety of misdemeanor and felony charges on behalf of adult and juvenile clients. We routinely represent residents of New York City and the surrounding counties in complex criminal defense matters such as homicide, drug charges, sex crimes, weapons crimes, assault, and parole and probation violations.
Why Choose Our New York Defense Attorneys?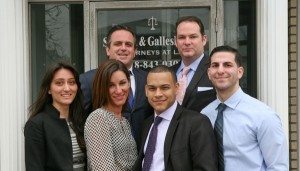 Being charged with committing a crime is always a stressful, scary, and isolating experience. After you've been placed under arrest, it is natural to feel hopeless, confused, and alone — but know that you don't have to face the situation without help. The New York criminal defense attorneys of Sullivan & Galleshaw are here to provide professional support, fight the charges against you, walk you through your defense options, and guide you through each and every step of the legal process. At Sullivan & Galleshaw, we don't believe in making assumptions or jumping to conclusions. We sort through the details of each and every case we handle with persistence, dedication, and tenacity, and aren't afraid to tackle even the most challenging and complicated of felony allegations.
We understand how difficult and painful criminal prosecution can be for defendants, and pledge to treat every client with respect and dignity while keeping personal information confidential. We provide free, no-obligation consultations for new clients, so don't delay another day: to start exploring some of your legal options, call our law offices right away at (800) 730-0135.
Pro Bono Work
We believe that everyone should have access to quality legal representation. We provide pro bono services for people in financial need.
Charity and Donations
Sullivan & Galleshaw is proud to support U.S. veterans through the Wounded Warriors Project, 9/11 first responders through the Tunnel to Towers Foundation and the FDNY through Merit Matters.

A Criminal Defense Law Firm Driven by Results
No matter what sort of charges you're facing, the experienced and knowledgeable defense attorneys of Sullivan & Galleshaw are here to assist you. When you call us for your free and confidential legal consultation, we can discuss your claim in depth and talk about some of the potential defense strategies that may be available to you going forward.
At Sullivan & Galleshaw, we are committed to pursuing outstanding outcomes for the clients we represent. We take a double-pronged approach to handling criminal cases, challenging every piece of evidence while we explore our clients' legal options and protect their rights.
Our Practice Areas
Our attorneys handle a broad spectrum of criminal defense cases. To better understand our law practice, the law in New York, and your potential avenues for recourse, please click on one of our practice areas.
We represent motorists charged with DWI, DWAI, and DUI, including repeat offenses, DWI with high BAC, DWI with drugs, and accidents causing injuries, death, and property damage.
Our attorneys handle a range of misdemeanor and felony theft and robbery charges, including identity theft, vehicular theft, shoplifting, and theft of services.
If you're convicted of a sex crime, you could be forced to join the publicly searchable Sex Offender Registry. Our attorneys handle allegations involving rape, sexual assault, pornography, abuse, and other offenses.
Our defense attorneys handle simple assault and aggravated assault charges, including assault with a dangerous weapon and domestic violence allegations.
Grand larceny of a vehicle is a felony offense in New York. If you've been charged with stealing a car, truck, or other vehicle, you need an experienced criminal defense lawyer on your side.
When the charges are this serious, you need a skilled legal team supporting you. Homicide includes murder, manslaughter, vehicular homicide, criminally negligent homicide, and aggravated charges.
We represent clients facing a wide range of weapons allegations, including criminal weapons possession, criminal sale of a firearm, and charges related to manufacture and transportation.
New York classifies criminal possession of a firearm as a felony offense. Our attorneys handle possession charges involving pistols, revolvers, shotguns, and other weapons.
Our drug defense lawyers handle allegations involving marijuana, heroin, cocaine, LSD, ecstasy, prescription drugs, and more, including possession, distribution, sales, transportation, and manufacture.
It's time to take your case seriously.
Get in touch with our attorneys for a free consultation.
Get Started